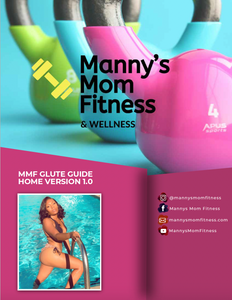 GUT & GLUTE Guide HOME 1.0 Plan
Regular price
$30.00
Sale price
$15.00
Tax included.
---
The Manny's Mom Fitness Glute Guide HOME 1.0 plan is a HITT and resistance band focused 8-12 week plan. Being that there is very little cardio diet is key to see your waist truly shrink. This is a predominantly HOME based workout routine that will come in PDF format with how-to videos for each exercise.
To be successful you will need at least two 10lbs dumbbells, mini resistance bands, long resistance bands, and sliders. Once you purchase this plan there will be hyperlinks next to each additional item that you will need. Click the name of the item ( i.e bands), and you will be directed to purchase links for them or you can go to our Workout Equipment page and purchase now.
One of our Monthly Meal Plans is highly recommended to go alongside this plan (at an additional cost) since a flat tummy is made in the kitchen. Remember you can not outwork a bad diet, and what you eat in private is what you will wear in public.
This plan covers the first four weeks and for the additional weeks such as weeks 5-8 we ask that you increase your weights/resistance bands. For weeks 9-12 we ask that you increase your weights/bands again but to your comfort and safety. Please increase only if you can keep your form in good standing and the weight is not too heavy for you, so we can prevent injury.
We recommend a HIGH veggie and protein diet on this plan. Any protein will suffice, but we do recommend a plant-based one.
If the videos of the workouts are too difficult or you need a modification please do not hesitate to fill out an inquiry form and our team will respond with the best solution.
TO ACCESS THE HOW -TO VIDEOS FOR EACH EXERCISE LINKS ARE EMBEDDED WITHIN TITLE OF EACH EXERCISE. SIMPLY CLICK THE TITLE OF EACH EXERCISE TO BE RE-DIRECTED TO THE HOW-TO.